Since none of the entertainment websites are interested in writing in something positive about exo's kokobop comeback, I'm taking stuff into my hands.
Let's just start it off with how much this album was anticipated in the first place. All the exo ls were creating theories about a Royal concept and whatnot, but SM's like BISH YOU THOUGHT.
While creating millions of heart attacks across the globe, exo opened up their first ever twitter account(@weareoneEXO).
People were sweating and boiii when the teaser dropped, so did our panties!
It was reggae!!! REGGAE YOU HEAR ME???
Within a few minutes hashtag exo trended worldwide and a cute flower emoji that was said to be created just for the comeback. It was not even funny anymore, each day that the exo teasers were released, each of the members trended worldwide.
Next preorders came close to around 800k for the war album which…………is a record. A GOD DAMNED RECORD!!!
They broke the previous 600k record of EX'ACT. No big deal, huh.
The mv was released and it caused Youtube to crash as it was stuck at only 37 views even after 10 minutes, even though there were more than a 1000 likes. Didn't look at the dislikes huh………..
The MV in my opinion is one of the most artistic and the best exo has ever done before. I had always prayed for a reggae/dancehall-ish theme for exo and boy that was so good!
I mean they COULD'VE just rolled around reggae, using some sounds of it, but HOLY SHIT THIS WAS STRAIGHT DOWN REGGAE SONG! NOT EVEN KIDDING! EXO ISN'T THE TYPE THAT ACCOMMODATES WITH MUSIC. THEY'RE SERIOUS ABOUT THAT ISH.
GDI! Actually I was a bit worried that the song shall not be pure reggae after all it turned out to be EDM ish as heard from the teaser.
However I pleasantly surprised me when I heard the song, it was pure reggae and RnB. Only during the breaks they used the classic EXO HYPE stuff, some trap and some heavy EDM.
Even though the genre is something never done before in kpop….i.e.reggae and EDM it worked superbly for them, after all exo's artistry is no joke. 
This is for you listeners, if you're disappointed that this is not a straight up your ass hype exo song, don't be surprised. Exo does that, they are one of the most experimental artiste out there, who does not shy away from trying out new stuff.
Next, exo's reggae-EDM fusion debuted at #1 on Melon with the most number of unique listeners in the first hour after melon underwent the change with the New System( that involved no song to enter the charts if released at 12AM).
(cr:@SMTownEngSubs)
The highest for a kpop boy group and second highest after IU X GD's Pallette collab song.
Oh, before I forget to mention, exo's Kokobop crashed VLive and the iTunes, cause nothing was available after sometime, sue to high visitor traffic. Naver was shook as they received a 100 mil hearts after exo's VLIVE, so they made an article out of it huhuhuhu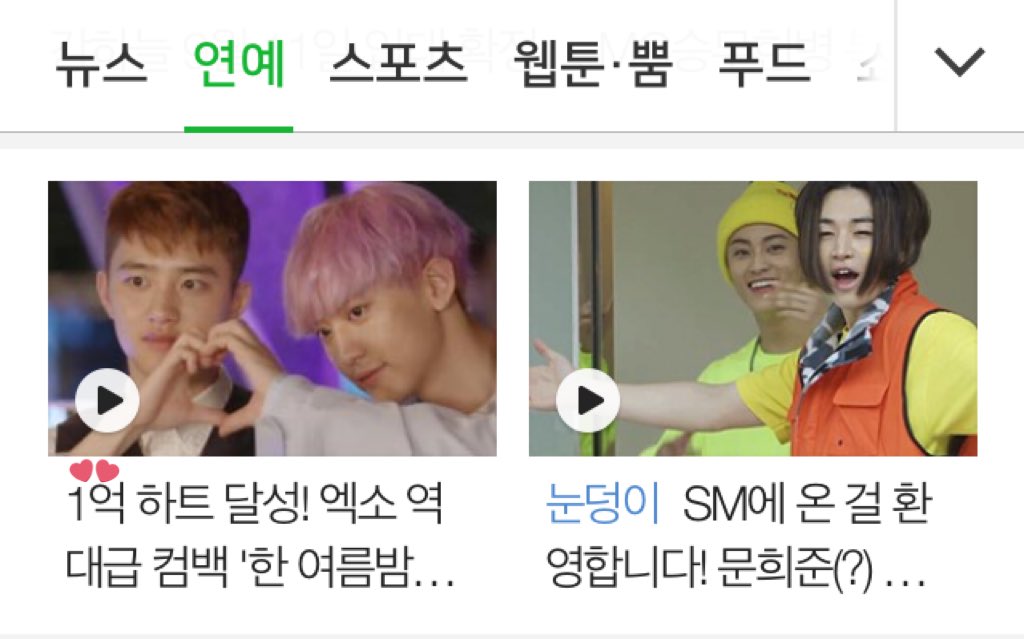 (cr:@serendyo)
Are you with me??
Recent news stated that after Preorders, even Synnara and KTown4U sold out The War album.
It's a mess, honestly. This was after news reached kfans about how exo broke the preorder number. Overtaking even H.O.T aka legends. 
Moreover exo's The War charted at #1 in 38 countries INCLUDING MY HOMELAND INDIA CAN YOU BELIEVE TGIS????? BOTH THE KOREAN AND THE CHINESE VERSIONS ARE AT #1 AND #2 ON INDIAN iTUNES CHART, I'M SO SHOOK RIGHT NOW!
(take out with full credits)
It is the Global Digital Artist at #11 on Itunes, beating likes of Rihanna, Katy Perry and being on the same list as Ed Sheeran, Jay Z, it's incredible for us Asian music lovers eh??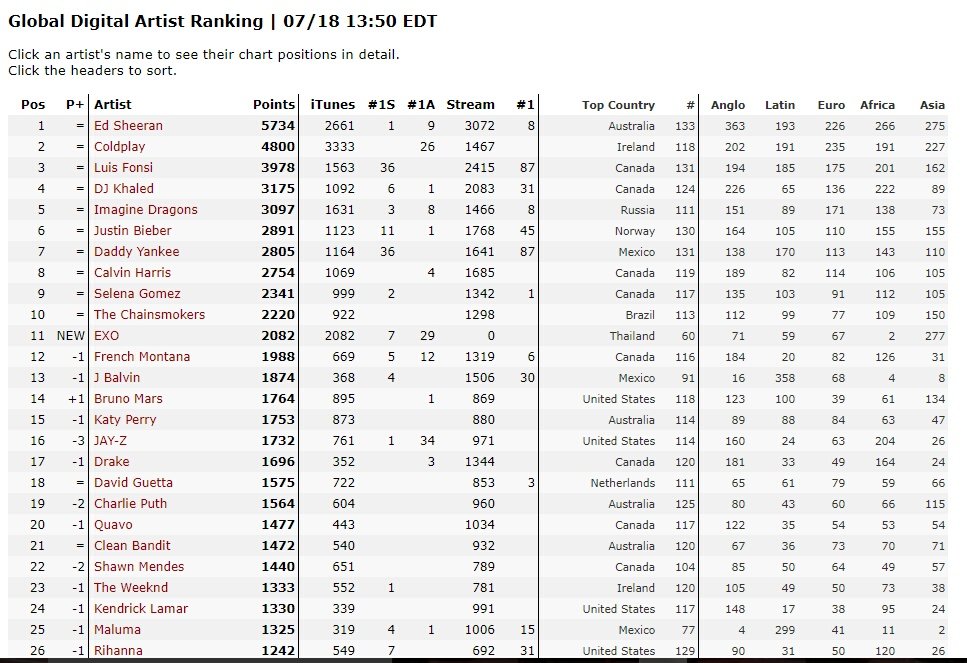 (take out with full credits)
Moreover it's been 19 hours already and the mv is already nearing 8 mil views hohohohoo
The War also shot up UK iTunes chart, the highest ever done by a kpop group.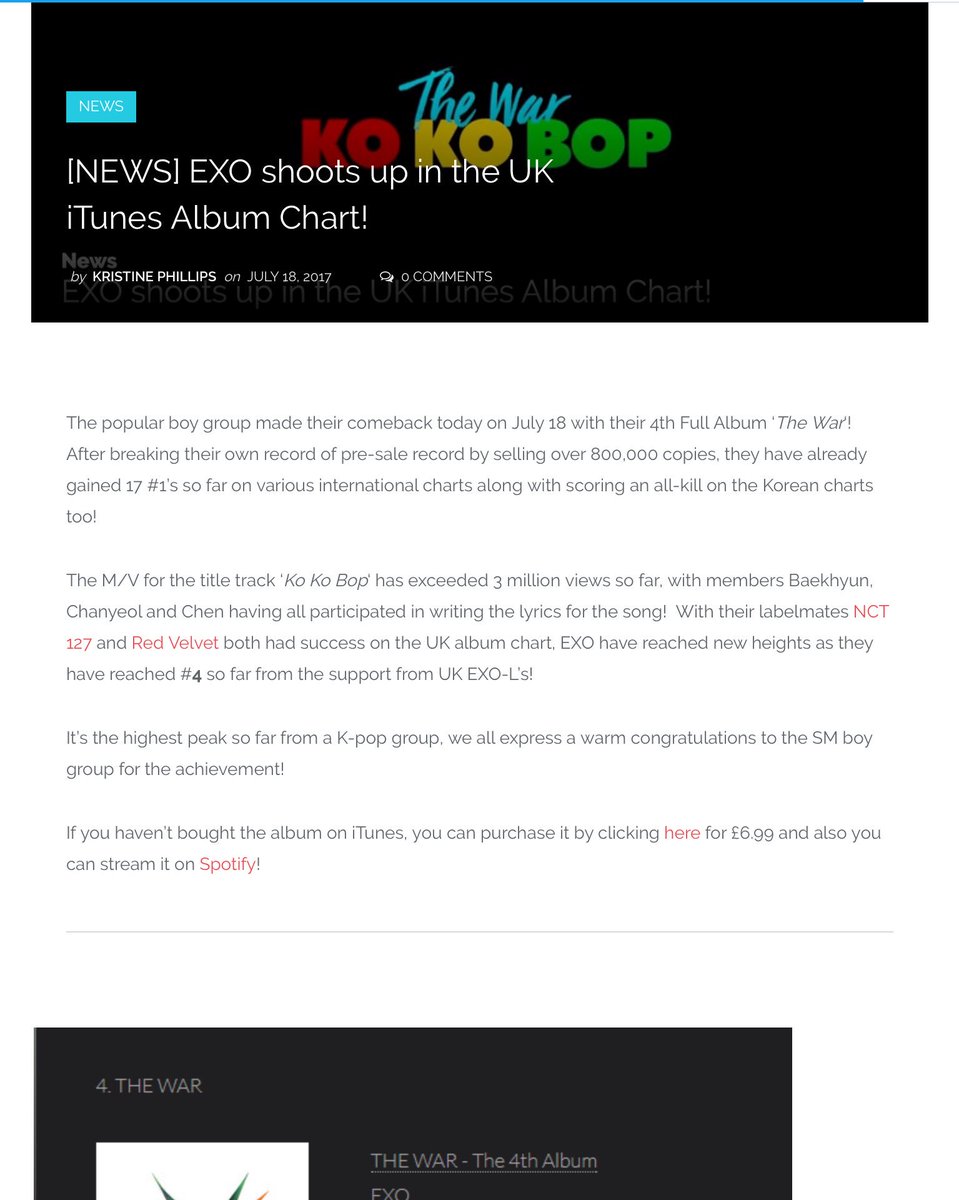 (cr:@letmaliktao)
And at #2 next to Jay Z on US itunes album chart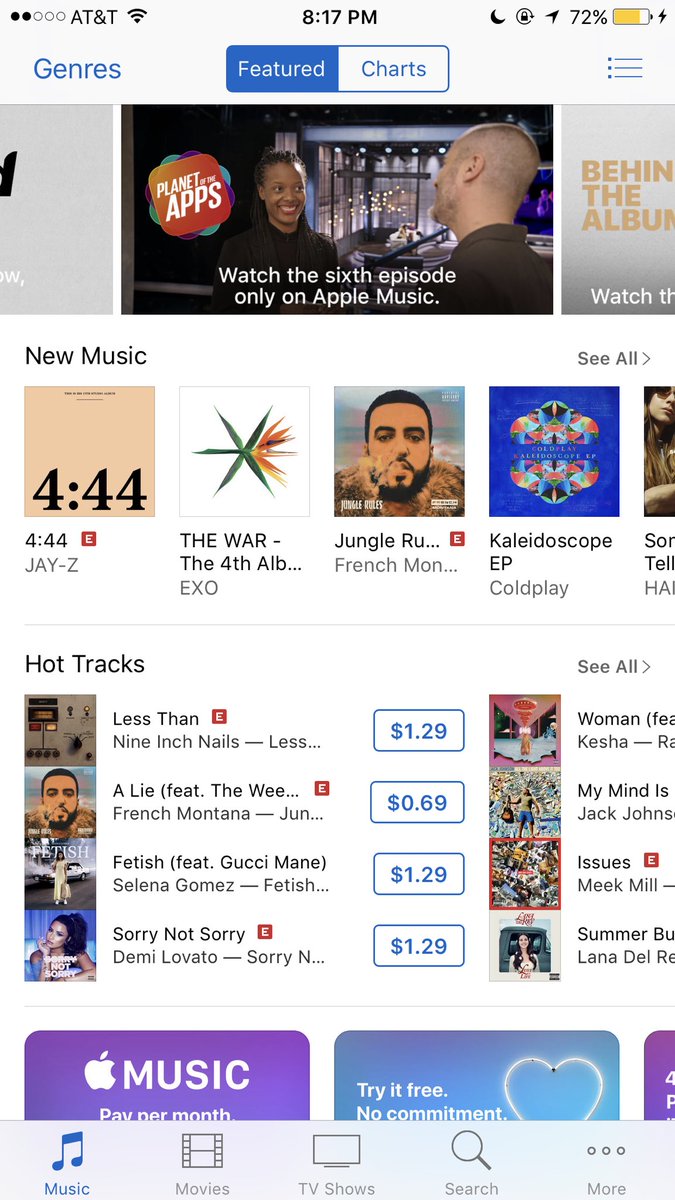 (cr:@shxnlu)
My next article shall be about the album, so stay tuned. Also fuck you Allkpop
First of it isn't from any reliable source, secondly the producer himself confirmed that they had already created the song way back in 2016, while D.Guetta's song released in 2017. So FUCK YOU!
DO SOME RESEARCH BEFORE MAKING ATTENTION GRABBING ARTICLES.
SOMEONE COULD'VE POSTED THE ABOVE MILESTONES EXO ACHIEVED IN A COUPLE OF HOURS BUT NO, NO ONE'S INTERESTED.
MY NEXT ARTICLE SHALL BE THEIR ALBUM REVIEW SO STAY TUNED!!!
Watch Exo's KOKOBOP MV OVER HERE:-
P.S. GIF, Video and pics do not belong to me. Full credits to their rightful owners.