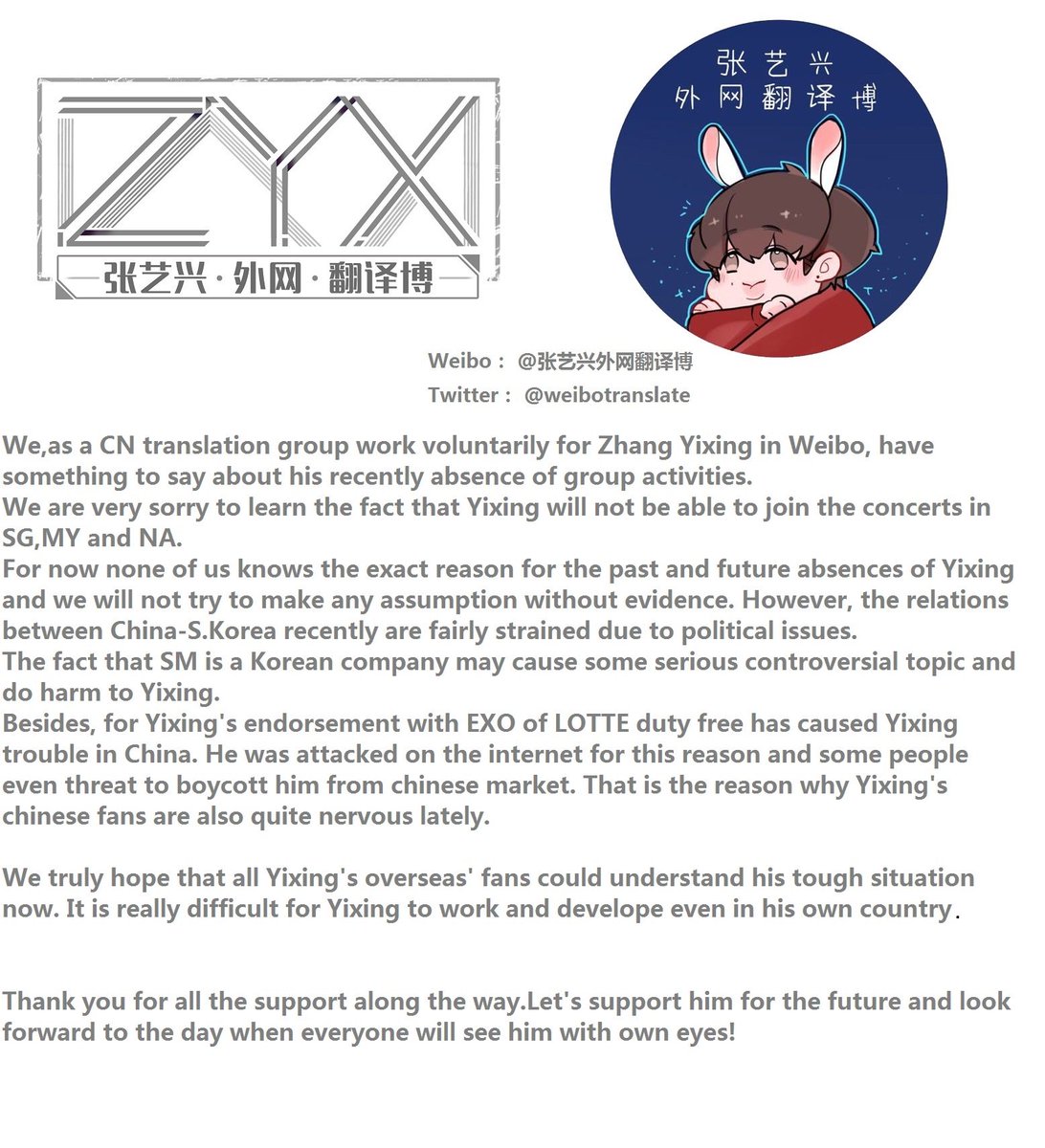 Let's clear up a couple of things out here.
People love to talk shit without understanding the situation beforehand and they end up creating rumors anyway. For example news of Lay not attending the rest of the EXO'RDIUM concerts caused a mighty uproar within the exo -L community as well as outside the fandom. Korean exols are already pretty unforgiving towards the remaining Chinese member and lash out at him for the smallest mistake after KrisHanTao's departure.
So first let us understand the fact that Lay is not only an exo member but a HIGHLY SUCCESSFUL CHINESE SOLO ARTISTE.
He can WITHOUT EXO pursue a promising career on the mainland. This led to ppl always assuming the fact that he's leaving despite him repeatedly stating that he is loyal to the band,after all, everything from exo led to him aiming higher.
Second let's talk about the strained Sino-Korean relations,this was also brought to light after kpop was banned from the Chinese mainland and that meant under no circumstances can SM promote exo within the country ,it implies that Lay is the only individual who represents not only exo but also SM in general,besides Victoria from f(x) as well as Zhoumi and Henry from SuJu-M. 
Everything as experts say,is related to THAAD(Terminal High Altitude Area Defense)-The ground-based missile defense system, which first came into development after the Persian Gulf War, is designed to shoot down short-, medium- and intermediate-range ballistic missiles during the terminal phase (i.e., when they are coming down).
However, last year the Defense Department of US announced it would deploy a system to South Korea, where it would be operated by U.S. forces stationed in the country. In a statement, the Pentagon described the move as a "defensive measure" against North Korea after the country continued to pursue nuclear weapons and tested a number of ballistic missile systems.
So why is China angry??
China's anger over THAAD has less to do with the missiles than with the sophisticated radar capabilities included in the system. These radars could be used to track China's own missile systems, potentially giving the United States a major advantage in any future conflict with China.
So how is China taking action??
Chinese reaction appears to be moving to hurt South Korea economically. Beijing has already placed restrictions on Korean businesses that operate in China, including shutting down stores of Lotte, a South Korean conglomerate that offered a golf course as land for THAAD use.
More measures are expected. Chinese travel agencies are stopping the sale of tickets to South Korea, and there have been growing calls in China to boycott South Korean products and even cancel tours by K-pop stars. Such moves carry significant weight. South Korea has grown increasingly dependent economically on China in recent years. China is South Korea's largest trading partner, and the value of its exports to the country were $142 billion in 2014 — more than twice the value of its exports to the United States.
Are yall still following me??
Chinese pressure also comes at a time of political transition in South Korea. Scandal has sidelined President Park Geun-hye, who is expected to find out this week whether she will be impeached. And Moon Jae-in, the leading liberal candidate to replace her, has suggested he may reconsider the THAAD deployment.
(-Taken from the article that appeared on Washington Post)
However him being the most successful out of the rest of the Korean-Chinese idols mean there is an additional glaring spotlight on him. He has movies,promotions,endless endorsements and EXO. He had already fainted thrice last year in airports and in concerts. Yet people still fail to see the reason behind it all. I was reading netizen buzz's post about this and let me say that it is disheartening. They seem to love stoking fire within burning embers. They focused on stupid useless,negative comments mostly. 
Now Yixing's new manager Zhang Pengfei, According to his WeChat posts, he was in Seoul in January and met with SM reps(cr:-@layshands) and it is worth mentioning that the new team already reached the agreement or intention to work together with SM in the beginning of this year.(cr:-@@cyanne9907).
ARE YALL STILL FUMING??
WAKE UP!!
A lot of yall might fail to see reason behind this,but his CITIZENSHIP MIGHT GET CANCELLED IF HE DOES NOT KEEP LOW YOU FOOLS!! 
YOU KNOW WHY?? CAUSE HIS VISA IS ISSUED BY CHINA NEITHER SM NOR KOREA,SO  IF HE DOES STUFF TO ANGER THE GOVERNMENT THEN HE MIGHT FACE HEAVY BACKLASH.
Of course his country comes way ahead of exo. I support him and I hope everything works out fine.
Instead of trusting the usual faulty posts pay attention to the real confirmed posts on Weibo where they focus on the positives: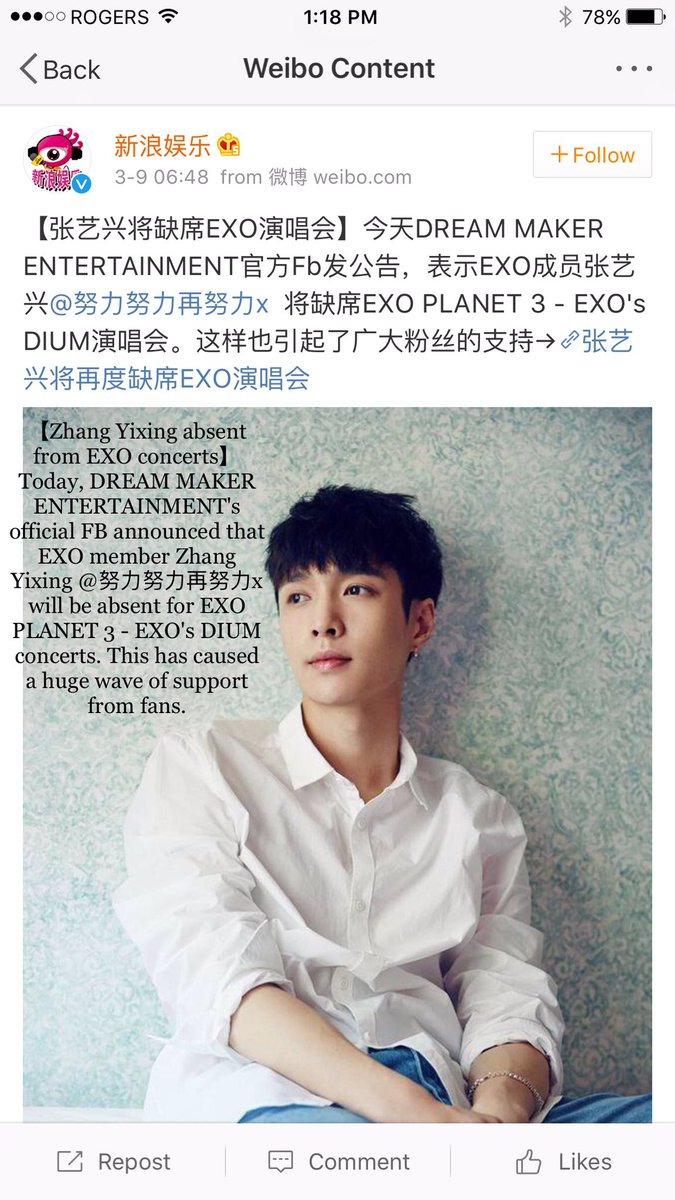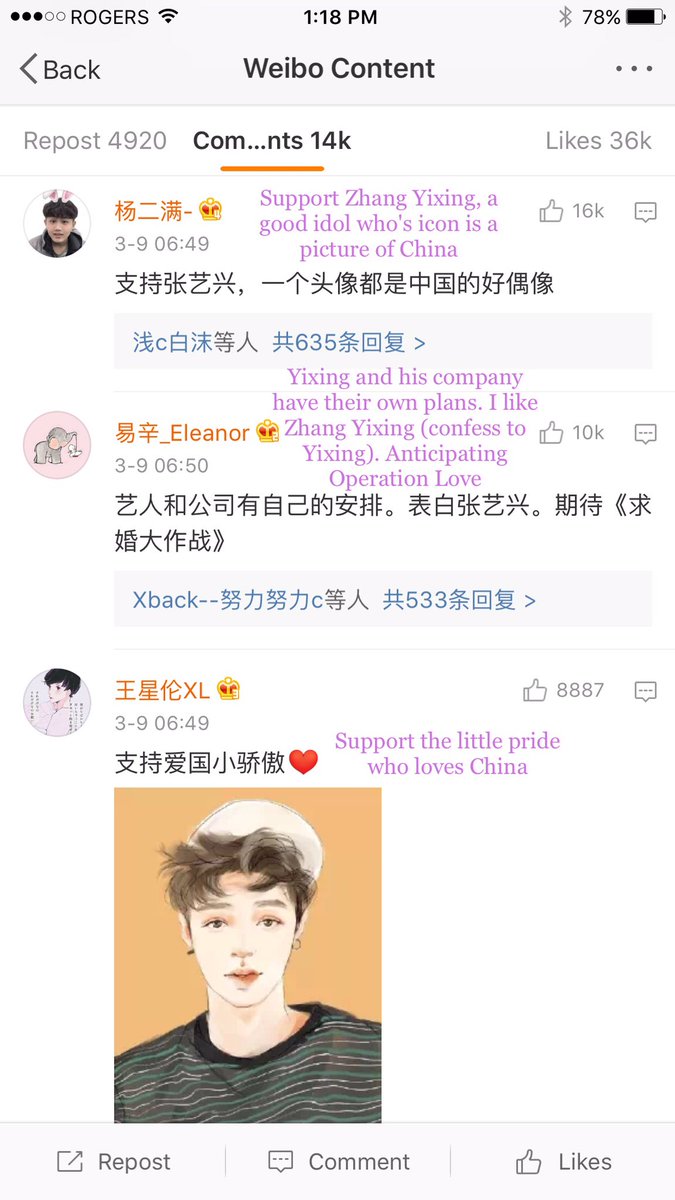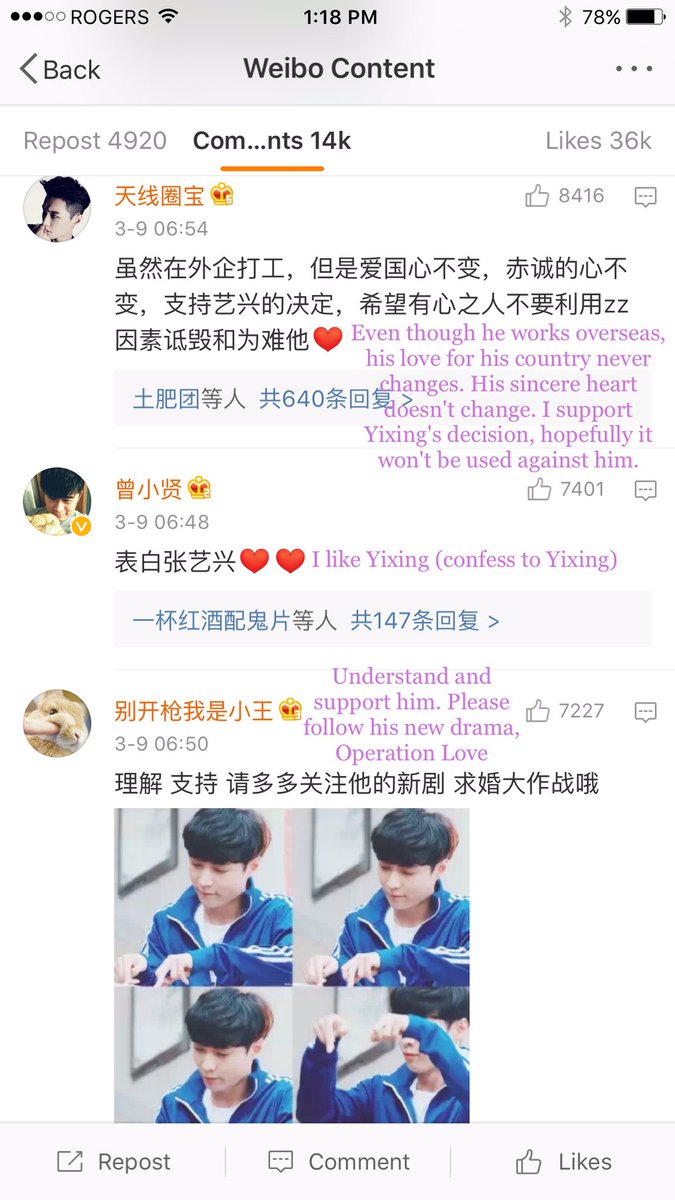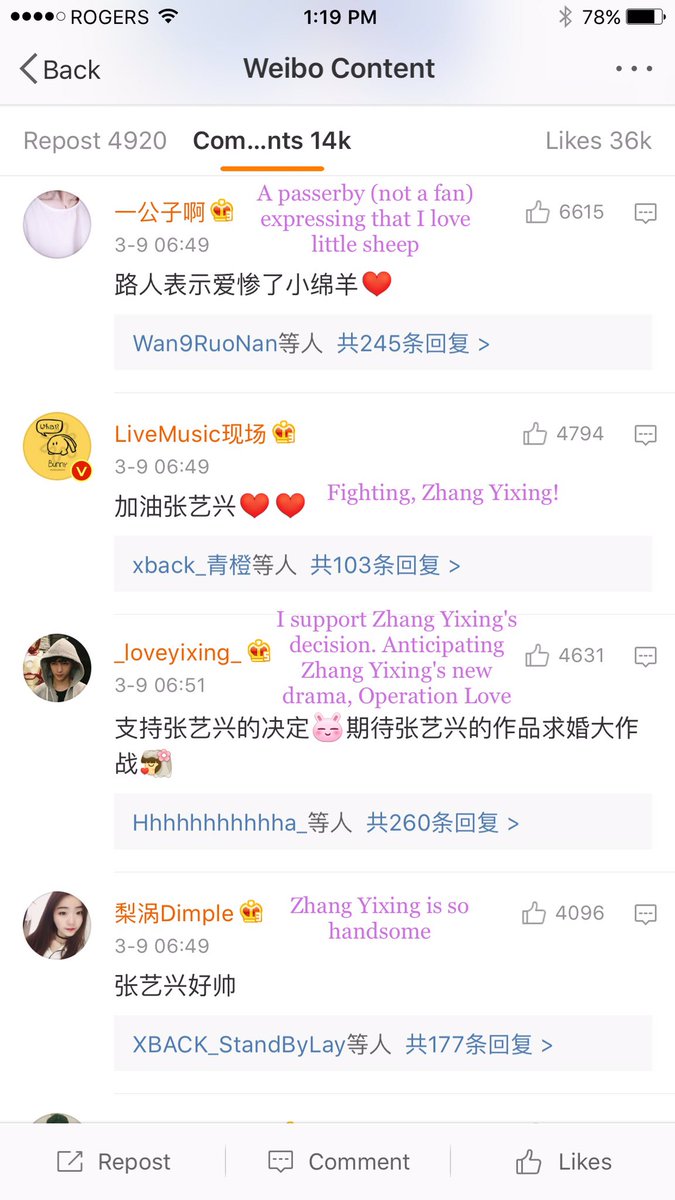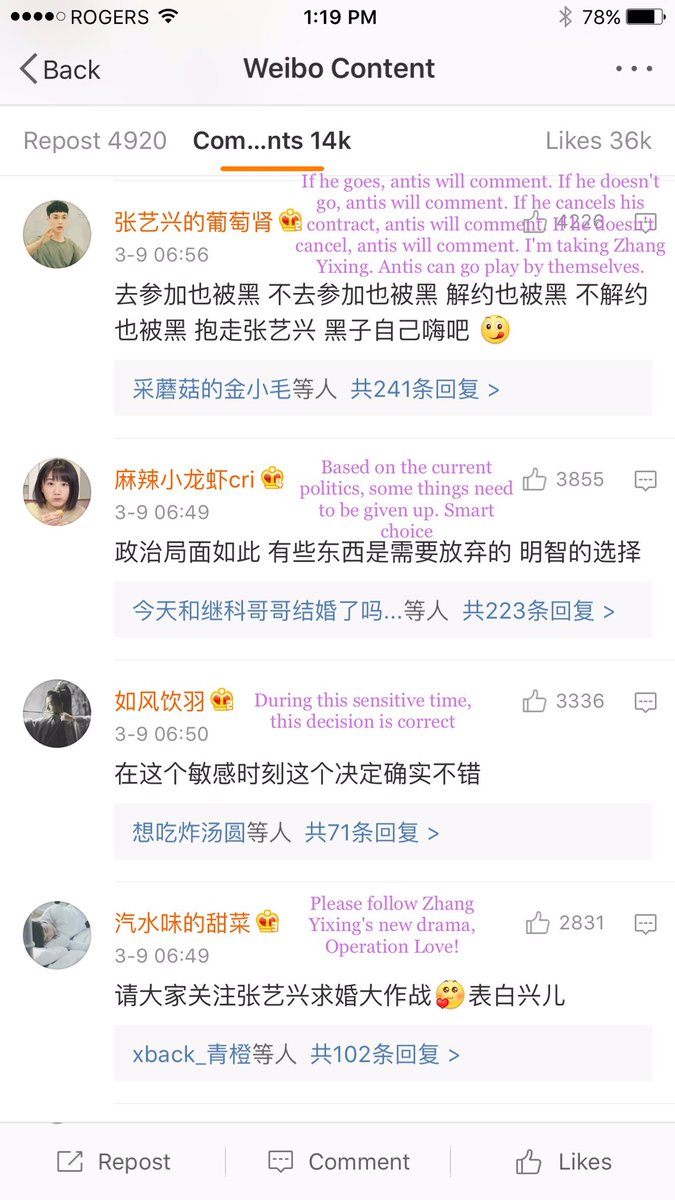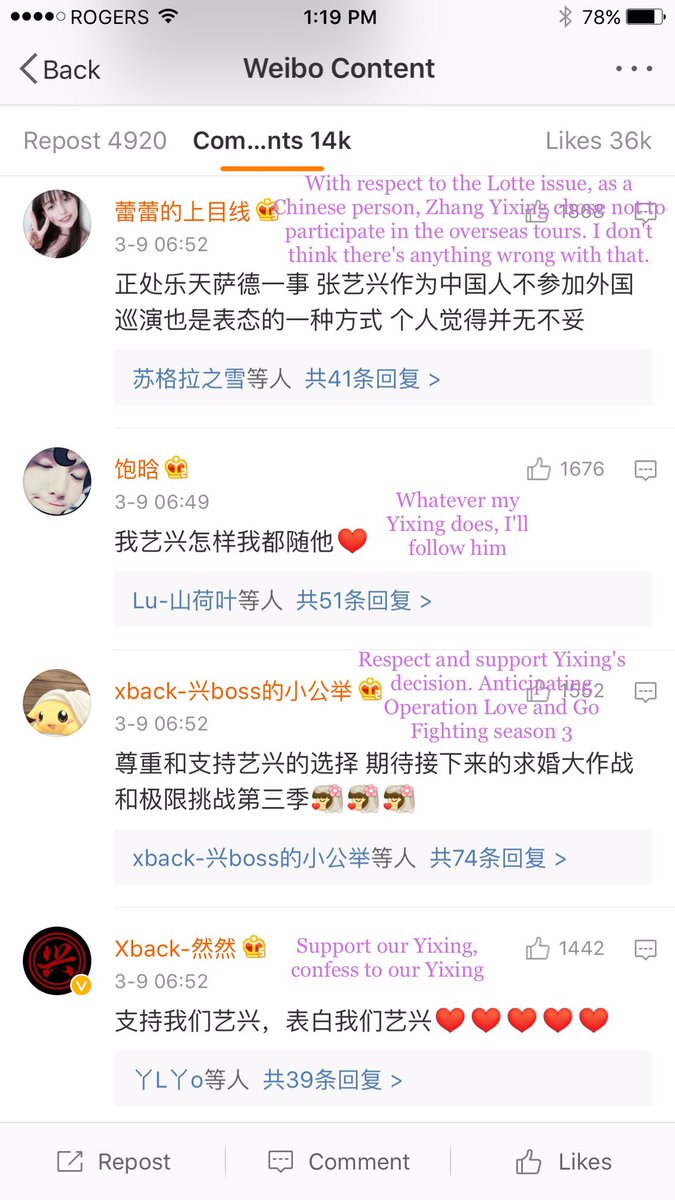 Even harper's Bazaar China supported him!
(cr:@_foreverwithbom  and @layhands for these translations!!)
If this does not make you smile,I have no idea what else would,SUPPORT HIM!!
And FUCK YOU NETIZEN'S BUZZ.
P.S Pics do not belong to me,full credits to the original owners